The weather is warming, the snow has disappeared and apart from the evidence that I have dogs, the lawn is starting to green up.  Spring has arrived!
Source: fanpop.com
Outside your home is showing all the signs of spring, but what about the inside of your home  After a long, cold winter, here are 5 easy ways to bring spring into your home:
1) Declutter
Over the course of the winter our nature is to nest and when we nest we tend to surround ourselves with items that give us happiness and comfort.  Spring is all about new beginnings, so here's a little exercise to help you declutter. 
Start by removing all the tchotchkes in the room – everything! 
Now put a quarter of them back.  
Give yourself a week to live like this and I guarantee you will feel lighter and brighter. 
Either donate, store or give away the items you removed.  If you can't bring yourself to do that, rotate them in and out of the room.  But remember - less is more, so if you put one thing in the room, you must take one thing out!
deniseinbloom.com via Michelle on Pinterest
2) Floors and Windows
Spring cleaning routines typically involve a good window cleaning.  Not just the glass, but the mullions, sills and trim.  While you are doing this take the opportunity to change up your window treatments.  Replace heavy draperies with sheers to give the room a breezy look. If you have horizontal blinds, consider removing all other treatments to give the window a cleaner look.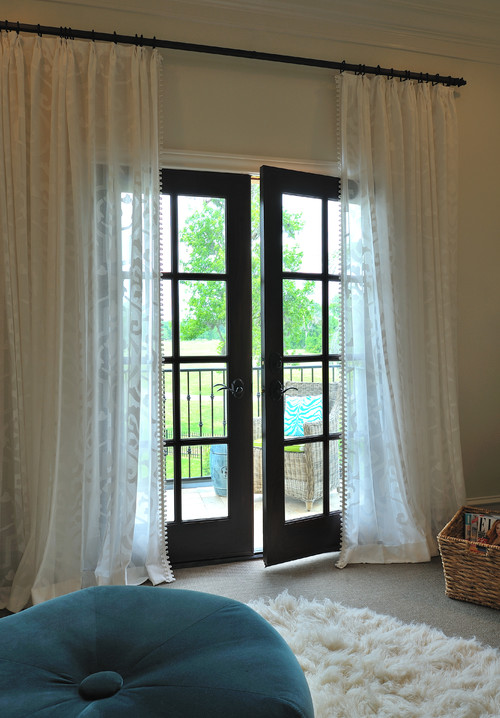 Give the floor a good cleaning, including the baseboards.  If you have an area carpet, replace it with a sisal type rug.  The room will have a much lighter feel.   Area carpets are pivotal to defining your furniture arrangement so make sure the carpet is the right size for your room.  A carpet that is too small, unless it is there for it's artistic value, will make the room look cluttered.  A good rule of thumb for the right size is to have a minimum of six inches and no more than two feet from the edge of the carpet to the wall. 
Hint:  Area carpets look great on top of wall to wall carpeting too!
3) Rearrange
I've said it before and will continue to say it.  Move things around!  The art on your wall, the carpets, the furniture – if it fits with the colour scheme, move it between rooms.  If it doesn't fit with the colour scheme, rearrange it in the same room.  You will be surprised at how fresh and new a room feels when you do this!
Hint: Your sofa or bed doesn't have be up against a wall, pull it out a bit or angle it in a corner.  You can even angle the area carpet if you have the room. 
4) Colour
Adding colour can be done in various ways.  If you are ready for a change, a coat of paint does wonders to up the newness of a room.  If you don't want to commit to new colours, then try a couple of new accessories or pillows in a bright spring colour. 
Source: colourlovers.com via Pamela on Pinterest
Hint:  You don't have to buy new pillows – just pick up a few pillow covers and recover existing pillows.  Ikea, Homesense or Bouclair are great places to pick up spring accessories and pillow covers without breaking the bank.
5) Flowers/Plants
Bringing the outdoors in is as easy as adding plants or fresh flowers to your home.  Fresh flowers are a wonderful way to add a pop of colour to any room.  Houseplants are a more permanent way to bring the outdoors in, but keep them to a minimum (see #1), you don't want your room to look like a greenhouse.   Plants are also a commitment – watering and pruning is required on a regular basis.  If you don't have a green thumb, there are plenty of beautiful life-like silk arrangements available that would have the most avid gardener fooled.
I hope these tips help you to welcome spring into your home.  If you have other ideas, please share them with me!
Happy Decorating!
Please contact dh designs if you are ready

to create a home that reflects your style and your life.